Hot Sale Humic Acid Organic Slow Release Fertilizer for Sale
Hot Sale Humic Acid Organic Slow Release Fertilizer for Sale
| | |
| --- | --- |
| Payment Type: | L/C, T/T, Western Union |
| Min. Order: | 25 |

| | |
| --- | --- |
| Productivity: | 50000 Metric Ton / Year |
| Place of Origin: | China |
| Supply Ability: | 50000 Metric Ton / Year |
| Certificate: | ISO9001, SGS |
Basic Info
Model No.: organic fertilizer
Product Description
Model NO.:
Organic Fertilizer
Certification: ISO9001, SGS State: Granular Physics State: Solid Chemical Character: Chemical Neutral Type: Green Manure Color: Pink, Red, Green ,Blue, White or Customized Trademark: McrFee Origin: China Condition: New Application: Vegetables, Flowers, Fruit Validity: Slow-acting Infection On Soil: Physiological Neutral Raw Material: Manure, Municipal Sludge Mf: N-P2o5-K2o Purity: 50%,60%,70% Specification: customized HS Code: 3105900000 hot sale Humic Acid Organic Slow Release Fertilizer I Product Introduction   
| | |
| --- | --- |
| Item: | Soluble Humic Acid |
| Manufacturing Technique: | Granular and powder |
| Factory Location: | Liaoning, China |
| Purity: | 50%,60%,70% |
| Application: | agriculture, horticulture  |
| Package: | 20-25kg PP bag |
  Order information to customers:  
MOQ:

10ton

Payment:

LC at sight or optional TT

Free samples:

           Yes, but express fee should be paid by customers.

We will pay you back if you place the order.

Monthly output:

10000ton/month
  Humic acids - the fraction of humic substances that is not soluble in water under acidic conditions (pH < 2) but is soluble at higher pH values. They can be extracted from soil by various reagents and which is insoluble in dilute acid. Humic acids are the major extractable component of soil humic substances. They are dark brown to black in color.  
Fulvic acids - the fraction of humic substances that is soluble in water under all pH conditions. They remains in solution after removal of humic acid by acidification. Fulvic acids are light yellow to yellow-brown in color.  
Humin - the fraction of humic substances that is not soluble in water at any pH value and in alkali. Humins are black in color.     FAQ about humic acid:
Why are adding humic acids so important...aren't they in the soil already? Humic acids used to be abundant in our soil and water systems.  However, modern agricultural methods have depleted the soil and our city water systems filter humic substances out.  Even in organic agriculture it's important to add humic substances as stimulants for microbes and food for worms, whether that's in the form of tons of compost or pounds of humic acids.  Additionally, while humic acid will remain stable in the soil, fulvic acid is used up rather quickly. In conventional farming humic acids are an important FIRST STEP when trying to transition towards more sustainable methods.  In sustainable and organic farming the addition of humic acids play an important role in the holistic system and promote soil and plant health naturally.      In what systems and ways are humic substances used? Garden humic and fulvic acid products can be used in almost any system.  They are used for organic, biodynamic, sustainable and conventional farming as well as bioremediation, compost teas and as an additive to premium crop products. Different products have different strengths, but generally they can be used in soil, hydroponics, aeroponic, dry broadcast, irrigation, landscaping, turf and golf care, home gardens, clones and cuttings etc... If you have a question about your specific system, please do not hesitate to ask us.      How much should I use and when should I use it? Humic substances are naturally derived.  They are often used in agriculture to help achieve sustainability and in bioremediation to help reclaim polluted soil and water.  As such, concentrations will vary depending on the needs of the crop or soil, the micro-climate, the soil type and desired results. However, general application rates can be found on our technical data sheets, located under each product or in the members only section.  It is best not to exceed these rates, especially without running some tests. Humic substances are best applied in smaller amounts over the life of the crop rather than a large amount all at once. 
  Beneficial of humic acid: Humic acid improves soil structure and increases the yield of crops planted in the treated soil. It is particularly important in drought conditions as it helps soil to retain water. It increases the soil's absorption of solar energy and boosts aeration of the soil, making it easier to work with. Biological Benefits
Humic acid increases plant production and enables plants to absorb more nutrients and vitamins. It strengthens crop resistance to disease and pests. Also, crops treated with humic matter have a higher nutritional value for humans. Ecological Benefits
Humic acid offers an economical and effective solution to environmental problems. It decreases the toxicity of liquid fertilizers in food crops and prevents the problem of soil erosion. Humic matter is also certified for use in organic farming by agricultural institutions worldwide.   Using Instructions   1 : Mix humic acid to the appropriate dilution rate according to the planned application:
Soil: 1 liter humic acid to 5 gallons water (up to one acre of coverage)
Foliar (leaf): 1 liter humic acid to 5 gallons water (up to one acre of coverage)
Drip systems: 2 oz. humic acid to 1 qt. water
Lawn and grass: 6 to 10 oz. humic acid to 5 gallons water (up to 1,000 square feet of coverage)   2: Fill the sprayer container with the appropriately diluted humic acid mixture.
3: Spray the humic acid mixture onto the area that needs treatment.  
4: Reapply the humic acid mixture according to manufacturer specifications on the packaging, or when the insects you are treating begin to reappear.
  The Response of Plants to Humic Acid   At the cornerstone of soil health is humic acid, which is the most biochemically active element in humus. Humus is organic matter that has been decomposed to some degree, and the end result is a rich, fluffy brownish black dirt. Gardeners can add more humic acid to their soil by adding compost. Humic acid benefits the soil and plant growth extensively in a variety of ways.
Nutrition
Humic acid is made up of colloids, which are substances composed of tiny particles held in a gel-like mass. It's sticky and absorbent, and engulfed in several negatively charged particles that attract positively charged chemical particles, many of which are important plant nutrients including calcium, magnesium, potassium, and hydrogen. As the plant takes up nutrients, the colloids release more nutrients ensuring a steady supply of vital plant nutrients. Humus holds a great deal more plant nutrients than other soil colloids, making it critical for building and maintaining soil fertility.   pH
Humic acid plays no great role in soil pH (otherwise known as its acidity) because it is insoluble in water. This is beneficial for both plants and soil organisms, which don't tolerate rapid pH changes. Commercial fertilizers often change the soil's pH which can negatively impact the plant that requires a certain pH level. Adding humus provides important nutrients while maintaining a stable pH.   Root System
A plant's root system benefits dramatically from humic acid, making it more extensive, sturdy and vigorous. A stronger, healthier root system means that the plant can search for and uptake nutrients and water more efficiently. And the healthier a plant is, the better it fights off diseases and pests.   Water Retention
Humic acid increases a plant's drought tolerance due to the clay-like behavior of the colloids. Humus can hold the equivalent of 80 to 90 percent of its weight in water giving it the ability to hold moisture without becoming soggy. This is especially beneficial for plants living in dry climates and for plants requiring a high level of moisture.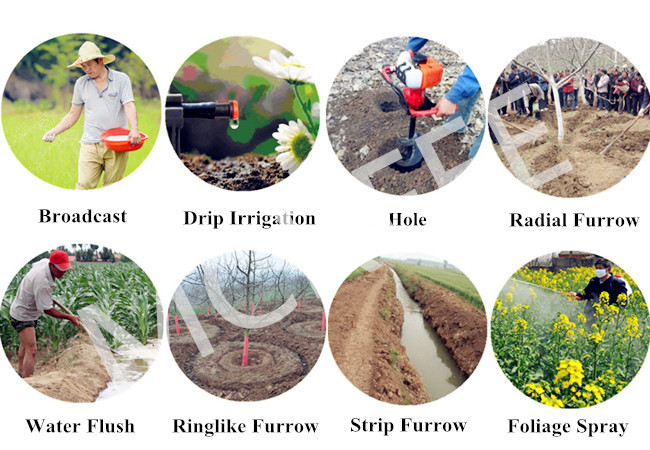 II Product Details

III Storage & Shipping
  STORAGE:Store in original containers only. Keep containers tightly closed when not in use. Store in a cool, dry, well-ventilated area, preferably in a locked storage area away from children, feed and food products and seed. Store at ambient temperatures. Do not contaminate water, food or feed by storage or disposal. HANDLING: Avoid breathing fertilizer dust. Avoid prolonged or repeated skin contact. Avoid eye contact. Wash hands thoroughly after handling this product.  Packing In net 9.5kg pp bags or customized; Packing with pallets; 25MT/20'FCL
IV Office & Exibition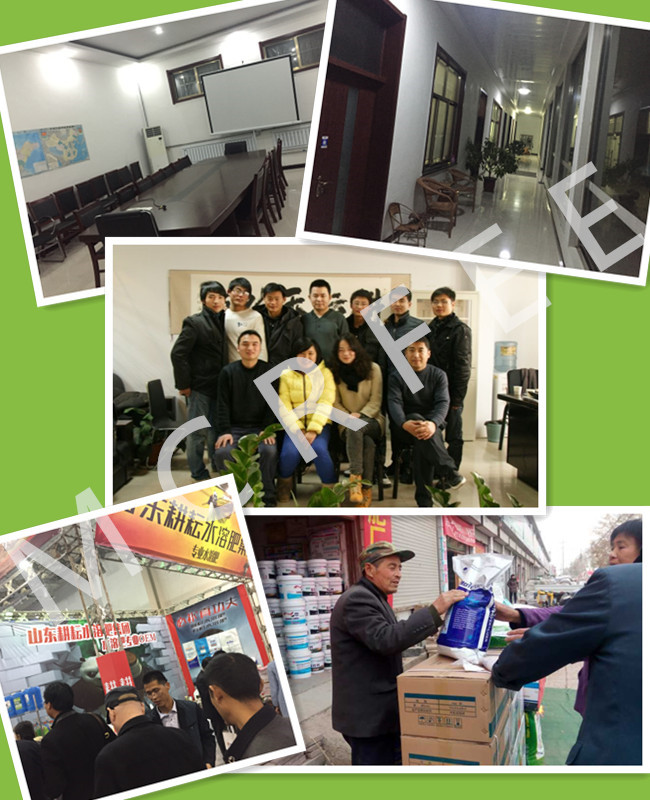 V Workshop & Equipment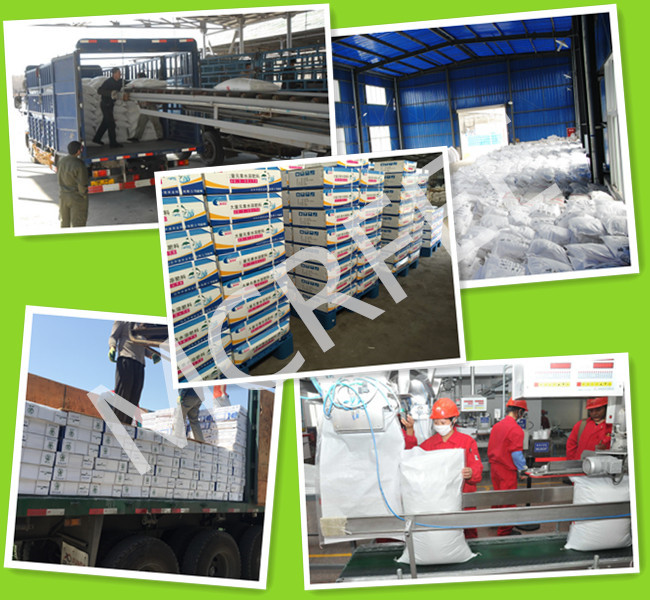 VI Certificate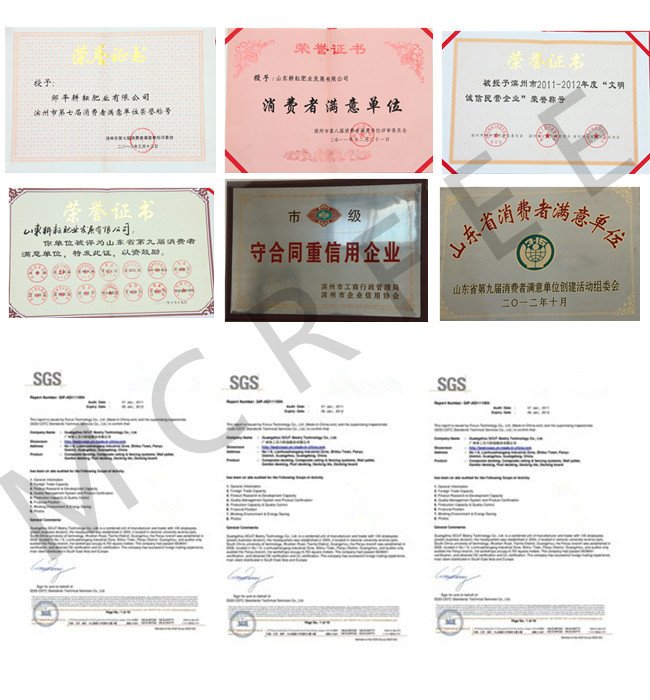 VII Company Profile
Shandong MrcFee Import and Export Co., ltd is a professional manufacturer and exporter for fertilizers and technology in China,which integrates scientific research, technical development, manufacturing, technique service, logistics together. It is the sub-company of Shandong Gengyun Fertilizer Industry Development Co., ltd
We have 320 employees, including more than ten scientific research personnel. The company has 8 registered brands, and 2 national patents. It has been awarded Enterprise satisfied by customers in Shandong Province, Enterprise satisfied by customers in Binzhou city, Enterprise who observes contracts and keeps promises in Binzhou city, and so on. It has 6 certifications registered in Agriculture Department. The company is one of fertilizer manufactures designated by Agriculture Department.   
Our operation target is to increase the production yield, and at the same time to improve the crops quality, decrease the usage amount of fertilizers and agrochemicals, to provide more healthy food to human, and to lead the agriculture to a more green and sustainable development direction. 
Therefore, we supply
Water Soluble Fertilizer
, weedkiller, insect-resist agents and raw materials, etc.  
Passed ISO9001 quality system certificate, we can ensure to provide consistent and reliable quality, technique, and service. Customized service and OEM are available. The formulas can be adjusted based on various soil conditions and different plants. Our products have been exported to more than 20 countries and regions all over the world and gain applauses by customers.
We sincerely invite and wish to cooperate with the importers and distributors who can understand our mission and idea well all over the world. And on this occasion we will send our technique experts to provide technical guidance and training, support each other and develop together.
  Contact us if you need more details on Organic Fertilizer. We are ready to answer your questions on packaging, logistics, certification or any other aspects about Fertilizer、Humic Acid. If these products fail to match your need, please contact us and we would like to provide relevant information.
Product Categories : Organic Soluble Fertilizers